Jin Shiyuan attended China (Yangzhou) "Belt and Road" high-quality development experts meeting
---
In order to deepen cooperation with countries along the "Belt and Road", build Yangzhou into a "good place" and become better and better, and actively deepen the construction of the "Belt and Road". On April 4, Mr. He Yongjun, Chairman of the Board, was invited to participate in the28 China (Yangzhou) "Belt and Road" High-quality Development Expert Meeting.
The meeting shared experience on how to achieve win-win situation in high-quality promotion of the Belt and Road construction and the economic and social development of local cities in China.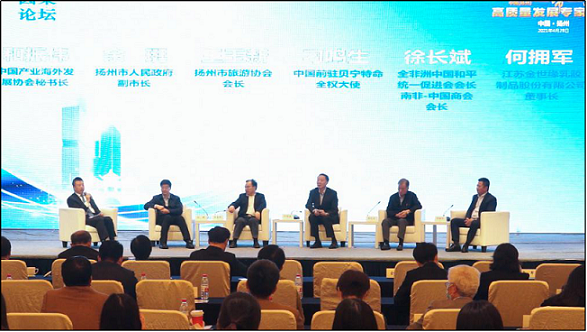 1. Amplify the effect of Yangzhou's foreign affairs, and invite senior diplomats to provide suggestions and advice on how to carry out practical cooperation in the "Belt and Road" region.
2. With the theme of the high-quality development of the "Belt and Road", experts and scholars, think tank institutions, and representatives of universities and institutes in the field of "Belt and Road" construction will be invited to give speeches and share experiences on topics such as strategic research and judgment, policy analysis, and economic and trade cooperation.
3. Strengthen exchanges with two-way investment enterprises, business associations and well-known figures in the industry, build bridges of people-to-people bonds, and constantly open up a new situation of project cooperation with "Belt and Road" countries.
4. Through dialogue and interviews, discuss how enterprises can deepen practical cooperation and share the opportunities of the "Belt and Road".
Mr. He Yongjun (Chairman) shared experience on how enterprises can deepen pragmatic cooperation, base on the new development stage, implement the new development concept, and build the new situation and new opportunities brought by the new development pattern, and through our company's participation in the "Belt and Road" international division of labor and cooperation for many years, improve the ability of enterprises to allocate resources on a global scale, as well as their competitiveness in the global market, and provide strong support for the high-quality development of the "Belt and Road" of Yangzhou and Jinshiyuan enterprises.